Fire Damage Information
9/28/2022 (Permalink)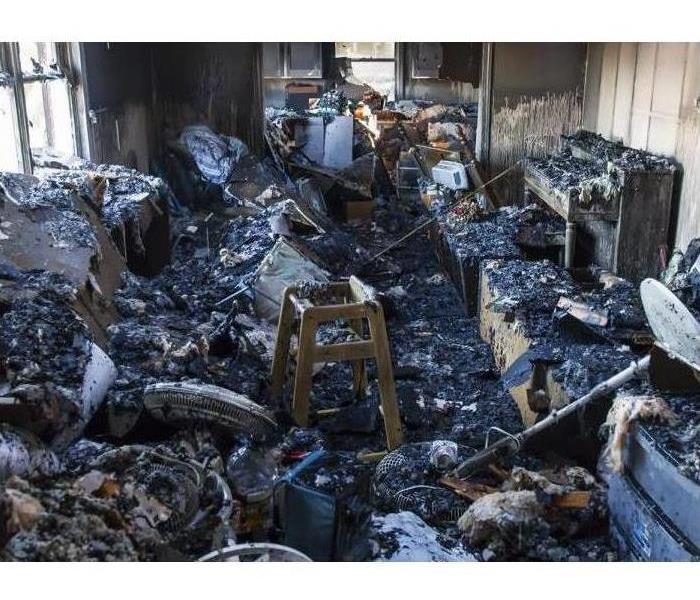 Fire damage is a serious concern; the restoration work following it even more so. The extent of the damage from a blaze can set back both private homeowners and companies alike, though peace of mind can indeed be achieved by hiring the right team to do the restorative work.
In the unfortunate event that your home, business establishment, or nearby areas gets ravaged by a fire, never even once think that the subsequent restoration work is something worth a DIY approach, and the same goes for water damage restoration endeavors. The following passages will explain why.
A good reason involves the damaging elements. If you think that the flames alone do all the destructive work, you're quite mistaken. Much of the smoke from a fire can indeed settle, but it leaves considerable amounts of smoke particles behind. These can embed into walls, ceilings, carpets, furniture, and other belongings. If left uncleaned, they can lead to foul odors and even result in other problems over time.
In addition, smoke can also damage electronics. Almost all gadgets aren't specifically created to withstand high humidity and heat very well, let alone a smoke film. When smoke gets into your electronic equipment, they can short circuit. Smoke residue also acts as a kind of insulating cover over the gadgets' heat-producing components, making the devices more prone to overheating and premature failure. Smoke's extremely corrosive nature makes all these possible.
This is where fire damage restoration pros from companies like SERVPRO of Rancho Santa Margarita/Coto De Caza/Trabuco Canyon, CA come in. Most DIY tips on removing lingering smoke and soot involves the use of harsh chemicals, as well as a special piece of equipment called an ozone machine, which is perhaps the best solution available. Ozone machines are made to run for days at a time inside a fire-damaged home that's been sealed, but using them yourself poses several risks—ozone itself is very toxic, and ozone machine rentals are expensive. The pros can effectively get rid of lingering odors and prevent further damage by removing any more unwanted contaminants.
Note that it's not just smoke that can damage your home in different ways. The resulting ashes can, as well. This is because the ash produced by fire is acidic—everything it touches will suffer discoloration over time. Acid from ash is so potent that nearby plastic items can start deteriorating in mere minutes. Should the ash stay for more hours, other items such as fiberglass and appliances will also start to turn yellow, and metals will tarnish.
Call SERVPRO of Rancho Santa Margarita/Coto De Caza/Trabucco Canyon at (949) 472-0992